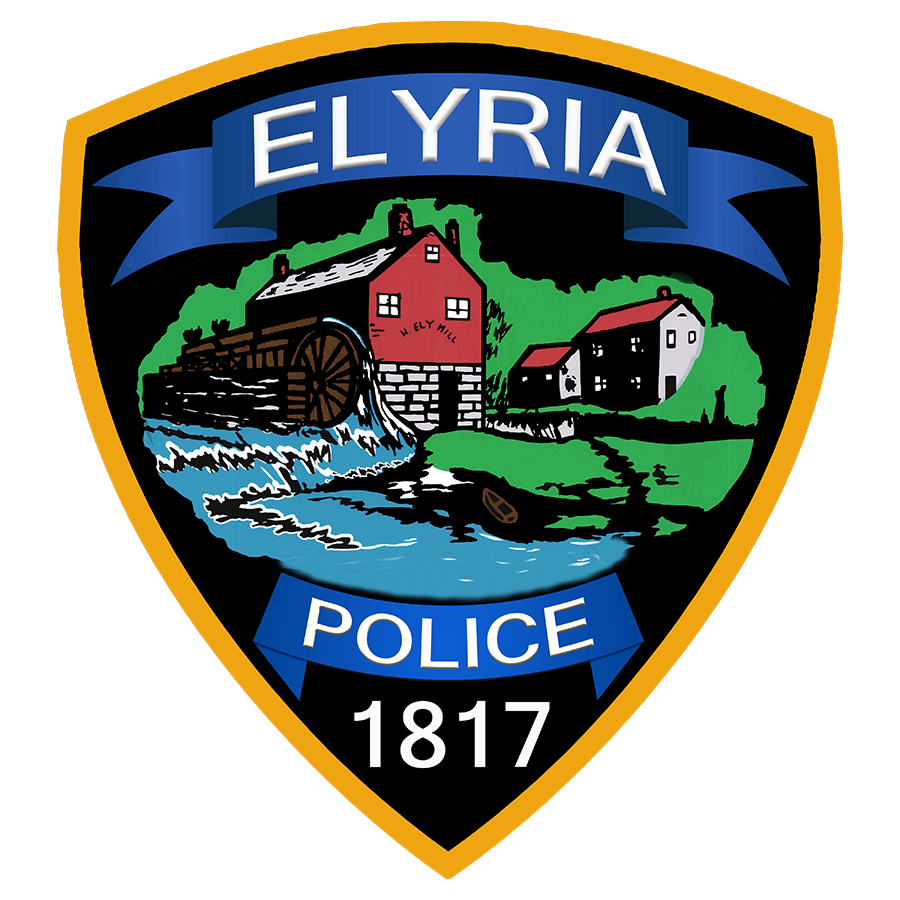 FREQUENTLY ASKED QUESTIONS
How do I file a complaint?
Answer:  The Department Complaint Form is available on the Department's website or at the Records window 24-hours a day.
A complaint can be filed in writing, verbally, in person or by mail, telephone, fax, or email. Specific instructions are attached on the back of the Department Complaint form.
 Department Complaint Form
Where do I pay a traffic citation?
Answer: Fines for traffic citations must be paid in the Clerk of Courts Office, located in the Elyria Municipal Court Building, 601 Broad Street or via the Clerk of Elyria Municipal Court's office website. Their business hours are 8:00 AM - 4:30 PM Monday through Friday.
The police department will not accept payment of traffic citations when the Clerk of Elyria Municipal Court's Office is closed.
OVERVIEW
The City of Elyria Police Department's mission is to provide professional police services for the City in partnership with the community. The EPD is proudly dedicated to enhancing the quality of life of Elyrians, generating and maintaining the public's trust, and upholding the individual liberties and Constitutional rights afforded to all citizens.
In Elyria, we believe we can do more by working together. The Elyria Police Department has cooperative arrangements with federal safety forces, providing space at our headquarters for the Federal Bureau of Investigation (FBI), Federal Marshall and Secret Service agencies, effectively flexing the size of our force – and therefore our ability to serve – at no cost to taxpayers.
EXEMPLARY RECOGNITION
Commission on Accreditation of Law Enforcement Agencies (CALEA)

The Elyria Police Department (EPD) is a nationally accredited law enforcement agency through the prestigious Commission on Accreditation of Law Enforcement Agencies (CALEA), which is considered the gold standard in public safety. The EPD received initial accreditation through CALEA in 2017 and was the first accredited local law enforcement agency in Lorain County. Only 7% of law enforcement agencies across the nation have earned this level of distinction. 

CALEA Public Portal
Elyria (OH) Police Department
"The purpose of this portal is to receive public comments regarding an agency's compliance with CALEA standards, engagement in the service community, delivery of public safety services, and overall candidacy for accredited status. These comments can be in the form of commendations or concerns. The overall intent of the accreditation process is to provide the participating agency with information to support continuous improvement, as well as foster the pursuit of professional excellence and this new approach works to further that objective."
IMPORTANT: CALEA is not an investigatory body and subsequently the public portal should not be used to submit information for such purposes. Additionally, there will be no response other than acknowledgment of submissions; however, the information will be considered in context to its relevancy to compliance with standards and the tenets of CALEA® Accreditation. 
American Automobile Association
The City of Elyria is often recognized for the high level of collaboration demonstrated among its departments to keep our community safe. AAA has awarded these outstanding efforts for multiple years with gold and platinum awards through the AAA Community Traffic Safety Awards program. These awards are proudly on display in the lobby of the Elyria Police Department.
Elyria Police Department
Police Chief William Pelko
pelko@cityofelyria.org
18 West Avenue
Elyria, Ohio 44035
Phone: 440-323-3302
Emergencies: 9-1-1
Drug Tip Line: 440-323-5123
Drug Tip Line: 440-322-7264
Chief of Police: 440-326-1200
Open 24 hours a day, seven days a week, 365 days a year.
Normal operating hours for the Investigative Bureau and Chief's Office are Mon-Fri, 8:00 AM – 4 PM
Investigative Services Division
Adult Detective Bureau
440-322-1926
Juvenile Detective Bureau
 440-322-3465
Narcotics Bureau
440-322-7264 or 440-323-5123
Administrative Services Division
Department Information
440-322-2241
Records
440-322-1827
Services
440-323-1144
Safety Town
440-326-1503
Other Contact Information
Dispatch
440-323-3302
*Please note that the Elyria City Jail has been closed.
Fax Numbers
Chief's Office: 440-326-1338
Records: 440-326-1243
Investigative Services Division: 440-326-1357
Dispatch: 440-326-1351
Responsible for the suppression and detection of crime, the enforcement of laws ranging from traffic laws to enforcement of City ordinances, the investigation of traffic accidents, responding to emergency calls for help and other calls for service.
Responsible for the efficient and effective investigation of crimes or incidents reported to the Patrol Unit. This unit pursues investigations into serious crimes, including the City of Elyria Narcotics Unit.
Provides support services for EPD, including records management, training, inspection, recruitment, fleet management, and maintenance.
INTEGRITY
The Elyria Police Department is committed to the highest professional standards. Integrity, truthfulness and ethical conduct are expected and demanded by the members of this organization.
RESPECT
The Elyria Police Department Personnel will treat all persons in a dignified and courteous manner and demonstrate an understanding of their cultural diversity in dealing with the public in our public and private contacts.
SERVICE
Elyria Police Department will provide professional quality service.
ACCOUNTABILITY
Elyria Police Department will hold ourselves to the highest standards in our conduct on-duty and off-duty. The goal of all members of the Elyria Police Department is to maintain superior performance with the trust and cooperation of the community.