OVERVIEW
The City of Elyria's Sanitation Department keeps our City safe and beautiful through scheduled weekly removal of trash and recycling for our residents.  Our Sanitation team also removes yard waste seasonally, and is responsible for maintaining and removing curblawn trees.
The Sanitation Department also maintains curblawn and decorative trees and flora for the City. For the past 26 years, their phenomenal efforts have led Elyria to be recognized as a "Tree City USA" by the Ohio Department of Natural Resources and The National Arbor Day Foundation.
The Elyria Sanitation Department does pick up bulk or large items.  Bulk items are defined as large items of residential waste which, because of their volume, size, shape, or weight, cannot be placed for collection in City-issued garbage bins. View additional bulk or large item guidelines. 
The City of Elyria employs a certified Urban Forester to maintain curblawn and decorative trees and flora on City-maintained property. Residents with concerns about the trees in tree lawns should contact the Forestry Division at 440-323-3184 or visit the Forestry page.
The City of Elyria handles all residential trash pickup through an automated truck and matching can service. Cans are provided by the City. Residents requiring alternatives due to medical conditions should call us at 440-322-3895. View garbage pickup guidelines.
The City of Elyria collects paper, plastic, glass and metal at the curb lawn in city-assigned green carts. Please note that food containers should be rinsed out before placing in the recycle bin, or they will need be sorted back out and taken to the landfill. View additional recycling guidelines.
The City of Elyria collects brush and tree trimmings from resident curblawns throughout the year. Please note that grass clippings will NOT be picked up from the curblawn. The City partners with Barnes Nursery for free composting of yard waste and discounted mulch. View additional yard waste guidelines.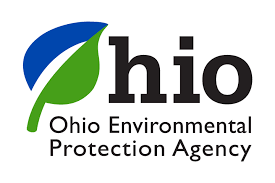 The City of Elyria thanks the Ohio EPA for its 2021 Community and Litter Grant to purchase an F-450 truck and chipper unit to assist the city in the composting and recycling program. 
CONTACT
Sanitation Department
Rodney Eye, Manager
131 Court Street, Suite 101
Elyria, Ohio 44035
Phone: 440-322-3895 
sanitation@cityofelyria.org