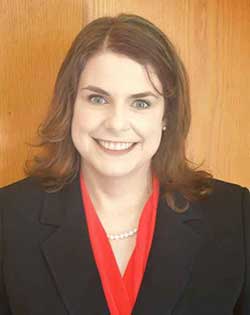 LAW DIRECTOR: AMANDA R. DEERY
Amanda R. Deery is the Law Director of the City of Elyria. Attorney Deery has over fifteen years of governmental legal experience.
An Elyria native, Deery has been with the Law Director's Office since 2012 and served as chief of staff starting in 2016. She was appointed Law Director in July 2019 and was elected to a new four-year term in November 2019. Some of her accomplishments in the Law Director's Office include working with the Friendship Animal Protective League to enact the city's anti-tethering law in 2016, working to change the city charter and Civil Service Commission rules to streamline the process of hiring experienced police officers from other departments through lateral transfer and working with Elyria police on their Commission on Accreditation for Law Enforcement Agencies, or CALEA, certification process. 
Licensed to practice law in Ohio since 2004, Deery has eight years experience as a Lorain County assistant prosecutor. She is a graduate of Elyria Schools and Ohio State University and earned her law degree from Boston College.
Deery is a member of Elyria Rotary, a member of the board of the First Friday Forum of Lorain County and a member and past president of the Elyria Democratic Women's Club. She also is a member of the Lorain County Historical Society, Elyria YWCA, 100 Women Who Care About Lorain County and the Elyria Unit of the NAACP. She and her husband are members of St. Mary Parish in Elyria.