Police Canine FOKY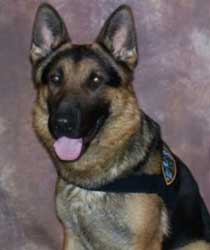 Police Canine Foky was born Fokker Z Arnultovic in the Czech Republic on, July 6, 2005. His first two and a half years were spent in Czechoslovakia being trained in the sport of Schutzhund.
Foky came to the Elyria Police Department in December of 2007 and was given to his handler, OFC Tom Baracskai. The two became an OPOTA Certified Dual Purpose K9 Team on February 1, 2008. The certification included detection of narcotics, tracking, area searches, building searches and apprehension work (bite work).
Foky and Tom worked patrol for the next five years before Foky was retired at the age of 8 years old.  Foky lived out the remainder of his life with Tom at home, content to be a farm dog until his passing from cancer on February 10, 2017.
Police Canine STUKA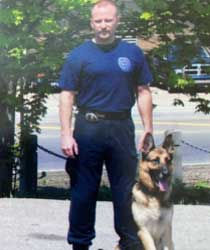 In October 2006, Stuka became a member of the Elyria Police Department and was introduced to his handler, OFC Richard Walker.  Stuka and OFC Richard Walker officially became a Special Purpose Canine Team in December 2006, which consisted of certification in narcotic detection, tracking and article search through the State of Ohio.  They also became a state certified Patrol Canine Team, which expanded their skills to socialization, obedience, general control, building search, area search and suspect apprehension.  These certifications were maintained through to the end of Stuka's tour of duty in May 2013.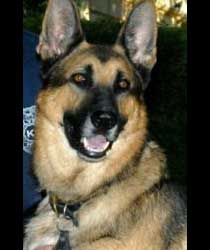 Stuka and OFC Walker were responsible for 13 physical apprehensions and numerous voluntary compliance apprehensions influenced by Stuka's mere presence.  Stuka performed hundreds of narcotics searches resulting in drug seizures, criminal convictions, cash and property seizures for the City of Elyria.  Stuka gave uncompromising dedication and loyalty to his handler of almost seven years.  Due to Stuka's age (10 years old) and the toll of his 2007 medical diagnosis, Metatarsal Fistulation of the German Shepherd Dog, Stuka retired from the Elyria Police Department on May 9, 2013.  Stuka remained a valued family member of the Walker household until his passing a short time later on June 20, 2013.