Visit Elyria Family Holiday Light Displays
Palos Family Light Display
Giving a bit of Christmas cheer to neighbors and passers-by.
Where: 823 Oakwood Dr., Elyria, OH 44035
2021 Update: The display will be up for all to enjoy! Should be up completely by November 26, 2021.
The Marhevka's Christmas Display
17 inflatables, multiple Christmas figures, more than 1500 lights, a border around the yard, and lots of other little nuances.
Where: 837 Duffey St., Elyria, OH 44035
2021 Update: The display will be up for all to enjoy! The lights will be on beginning November 26, 2021, through the holiday season.
Schofield Christmas Display
More than 1000 lights, 4 inflatables, the polar bear sits on a pond of blue lights, Carousel, teeter-totter, and Ferris wheel, 10 blow molds, 2 Santa's, a bear, 2 soldier's, 2 snowman, 2 candy canes, North Pole sign.
Where: 38884 E. River Rd., Elyria, OH 44035
2021 Update: The display will be up for all to enjoy! The lights will be on beginning December 1st.
Pokorny Family Christmas Lights
Going for 100,000 lights in 2021! Plus, 20 inflatables, 17 yard displays, and a spinning snow globe in a drive-by display.
Where: 10164 E. River Rd., Elyria, OH 44035 (Carlisle Township)
2021 Update: The display will be up for all to enjoy!
Dine Locally in Elyria
Smitty's: https://www.smittyselyria.com/
368 E Bridge St, Elyria, OH 44035
When you ask someone in Elyria what they know about Smitty's, they will more than likely tell you we have a great burger! Smitty's has been serving the Elyria community with food and good times since Mr. George Smith started the business 75 years ago. Since that time the business has only exchanged hands a few times but it has always been kept a family affair. Dick and Lottie Spinks operated the business for over twenty years; after that their daughter owned it; and now our family, Steve and Karen Frank with their daughter Stephanie, have kept the tradition going since 1992.
Foundry Kitchen & Bar: https://foundrykitchen.bar/
525 Broad St, Elyria, OH 44035
Foundry Kitchen & Bar is Lorain County's new restaurant and bar located in downtown Elyria. Foundry Kitchen boasts a chef driven, locally sourced, from-scratch menu highlighting traditional favorites and seasonal offerings along with a gluten free and vegan options as well. Foundry Bar is fully stocked with all the popular selections and features craft beer, a fine selection of wine and a variety of small batch bourbons! Please make plans to join us for Lunch, Dinner, Sunday Brunch or to just relax with a drink at the bar. We look forward to seeing you soon!
Blue Sky Restaurant: https://www.blueskyrestaurant.net/
​802 Cleveland Street Elyria, Ohio 44035
Dog Park
Come check out the NEW Elyria Dog Park! Bring the pups to run around and play in this spacious fenced in park!
Hilltop Park
1300 Gulf Road Elyria, Ohio
What is considered "high grass"?
Answer: Grass above 8 inches is eligible to receive a notice. High grass complaints with a notice have 5 days to resolve the issue. If, on day 6, the high grass remains, the City will cut the grass at a rate of $300 per hour, with a minimum charge of 1 hour.
NOTE: If you live in a private development, you should call the association president or complex manager.
Who do I call if my neighbor doesn't bring in their cart within 24 hours?
Answer: Per City ordinance, you would call the Elyria Police Department in this matter. But please consider if this is the best use of our safety forces. Elyria is a place known for its great people—neighbors who help one another out. Can this be your chance to live that example?
Who do I call when I notice property maintenance issues?
Answer: YOU MUST PROVIDE AN ADDRESS (where appropriate). Once you have the address, call the Building Department at 440-326-1491.
Participate in the Various Parks and Recreation Activities
Our Parks and Recreation Department provides residents and visitors with abundant opportunities to enjoy our beautiful City and all it has to offer, from lush parks and green spaces to swimming pools, athletic fields, recreation centers, a skate park, and an ice rink. Programming runs throughout the year, with activities for all ages and abilities.
All Activities: https://www.cityofelyria.org/department/parks-and-recreation/
Stroll The North Coast Inland Trail
The North Coast Inland Trail, also known as the skinniest park in the Lorain County Metro Parks system, is open to non-motorized traffic of all kinds (except skateboards), including walkers, runners, bicyclers, in-line skaters and cross-country skiers. The trail's long 13-mile straight-aways pass through a variety of countryside including farm, field and forest, and numerous intersections serve as convenient places to jump on or off the trail. So grab your bike, in-line skates or cross-country skis and check it out!
1. Gateway Trailhead, 6302 Gateway Blvd., Elyria, OH 44035
2. Butternut Ridge Trailhead, 44342 Butternut Ridge Rd., Oberlin, OH 44074
3. Access to the NCIT is available near 265 South Main St., Oberlin, OH 44074**
4. Access to the NCIT is available near the Kipton Community Park, 57 Rosa St., Kipton, OH 44049**
Attend a Showcase at The Elyria Arts Council (Painting class, shop)
336 Broad Street
Elyria, Ohio 44035
(440) 328-3025
elyriaartscouncil@gmail.com
Gallery Hours:
Thursday 11:00 am – 3:00 pm
Friday 11:00 am – 3:00 pm
Saturday 11:00 am – 3:00 pm
Located in Elyria, Ohio, the Elyria Arts Council is a gallery and community devoted to making "Art Happen" in our city. As a 501c3 non-profit organization, we strive to better our community through art, starting with the colorful murals wrapped around our building that were painted by our member artists. You might have seen some of our artists' work at The Garford Arts Festival but each month in our gallery, we host special shows of our artists' work to showcase the talent and creativity in our town.
We know that sometimes people need to take their first steps into the world of art though which is why we offer classes in painting, photography, and pottery in addition to hosting "Art Nights" for adults who want to explore a wide variety of art media. This opportunity to explore the arts is also given to children through our Kids' Art drop-in program where children can create a low or no cost art project and maybe even build up the confidence to enter our popular annual Creative Christmas Tree Contest.
Come and see for yourself the wonderfully creative spirit found in Elyria.
Go Roller Skating/Blading at Roll Arena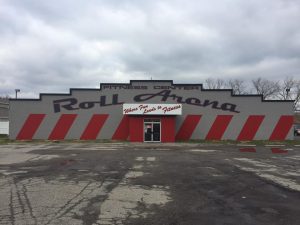 908 Cleveland Street Elyria Ohio 44035
Roller Skating | Roller Blading

Recreational
Artistic Club
Public and Private Lessons

Birthday Parties
Rock Climbing
Arcade Games
Fitness Center
And Much More!
Check Out Cookies' 10 Pin Bowling
252 South Abbe Rd.  Elyria Ohio 
Cookies' 10 Pin is a place to relax, play, and have fun.  We strive for good service, good selections, and great fun. Newly updated synthetic lanes and omputer scoring.  The top running ball returns add to a retro feel. What can we say, we like to eat, drink, and bowl.  Our kitchen is known for producing great food. 
Cascade Park
Answer: If your basement floods or you get a backup, contact Wastewater immediately so they can assist you, log it and track the situation. Sometimes you are not the only one in an area, so reporting the problem helps greatly in finding out what might be a much bigger issue.
The City has operators at Wastewater 24/7 and they take all calls from residents regarding sewage backups, sewer odors, and water in the street complaints. The operators get the calls immediately to the collection system supervisors and they are investigated from there. DO NOT CALL the police department, even if it is "after hours." Calling EPD will delay getting someone out to the residence. 
Residents should call the Wastewater plant at 440-366-2211 and press option 'O' to get the operator.