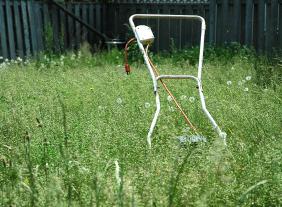 For All High Grass Complaints please call 440-326-1415 and give the address of the property, if there is no address (ie, vacant lot) please give a detailed description of the property. High Grass Complaints can also be reported to the city's 311 Citizen Report/Suggestion Form below.
Citizen Report/Suggestion Form
LEGAL NOTICE THIS NOTICE IS PUBLISHED PURSUANT TO CITY OF ELYRIA CODIFIED ORDINANCE 553.02; 553.03; and 553.04, ENACTED ON FEBRUARY 21, 1995 WHICH PROVIDES THAT WITHOUT ANY FURTHER NOTICE, IT HAS BEEN DETERMINED THAT WEEDS, VETCH, GRASSES, VINES, OR ANY OTHER GROUND COVER GROWING TO A HEIGHT OF EIGHT (8) INCHES OR HIGHER IS HEREBY DECLARED TO BE A NUISANCE. NO PERSON, WHETHER SAME IS IMPROVED, UNIMPROVED, VACANT OR OCCUPIED, SHALL PERMIT WEEDS, VETCH, GRASSES, VINES, OR ANY OTHER GROUND COVER TO GROW BEYOND A HEIGHT OF EIGHT (8) OR MORE INCHES AFTER MAY 10, 2023. AFTER THIS DATE ALL PROPERTY OWNERS AND/OR OCCUPANTS WITHIN THE CITY OF ELYRIA MUST REGULARLY CUT AND MAINTAIN THE WEEDS, VETCH, GRASSES, VINES OR OTHER GROUND COVER GROWING UPON THEIR PROPERTIES DURING THE ENSUING GROWING MONTHS OF THE SEASON. IN THE EVENT THAT SUCH A NUISANCE IS FOUND AFTER MAY 10, 2023 THE DIRECTOR OF SAFETY SERVICE SHALL ORDER THAT SUCH NUISANCE SHALL BE REMOVED BY THE CITY OF ELYRIA AT OWNER'S OR OCCUPANT'S EXPENSE ACCORDINGLY. THE FEE FOR MOWING OR CLEARING SHALL BE THREE HUNDRED ($300.00) DOLLARS PER HOUR WITH A ONE HOUR MINIMUM CHARGE (PRO-RATED).