CITY OF ELYRIA & ELYRIA SUNRISE ROTARY TO PROVIDE COVID-19 FRIENDLY DRIVE-THRU SANTA HOUSE
ELYRIA, OH – The City of Elyria's beloved Festival of Lights tradition will continue this year despite COVID-19. 
"The Elyria Sunrise Rotary and City of Elyria have heard from Santa and his North Pole crew, who shared the jolly old elf himself will once again be available to light Ely Square" said Rotarian Mike Routa "so don't forget to bring your letters for Santa."
The event — hosted in partnership with Elyria Sunrise Rotary, will be Saturday, December 5, from 5:30-7:30 p.m, and is split into two unique offerings: 
5:30-5:45 p.m. | Festival of Lights Ceremony at Ely Square Park, where Santa Claus himself will illuminate the decorations at Ely Square, signifying the start of the holiday season in the City of Elyria. 
5:45-7:30 p.m. | Drive-thru Santa House experience in the City Hall Parking Lot, where residents can share a moment with Santa Claus with COVID-19 safety measures in place. 
"It was really important for us to make sure that Elyria's kids know that COVID-19 has nothing on Santa Claus." said Mayor Frank Whitfield "so many times this year, our kids, our young people, have heard the words "no," to events, dances, and more.  We wanted to work with partners that were committed to solutions that allow us to say "yes" to welcoming the holidays through this cherished city tradition."
Although previous Festival of Lights events have included petting zoos, coloring contests, and snacks, this year, modifications were made to mitigate the spread of COVID-19 and greatly reduce instances where participants are crowding in groups.
This year, families can anticipate:
Free holiday decorations kit for the 1st 50 vehicles, courtesy of Girl Scout Troop #50933  (kits contain various tree ornaments, bows, picture frames and frame ornaments, and card packs); 

Holiday goodie bags for the 1st 700 kids. 
Additionally, elves will work to collect wish lists and letters from families in the car line as they wait for their chance to talk to St. Nick. 
For the past 20 years, the Elyria Sunrise Rotary has brought smiles to the faces of Elyria's youth through its support of the city's Festival of Lights celebration. The drive-thru experience was designed in collaboration with the organization and city, with recommendations from both Elyria Police and Fire.  
"Children have brought their lists and letters for Santa when they visited the Santa House, and Rotary took free pictures for families to cherish throughout the years" said Mike Routa "Although things look different this year, Santa will still be around to continue this holiday celebration safely."
Residents interested in participating in the drive-thru Santa House experience must stay in their vehicles; when vehicles approach Santa Claus and/or the elves, roll windows down to greet. Participants are encouraged to view the traffic-flow map below prior to attending: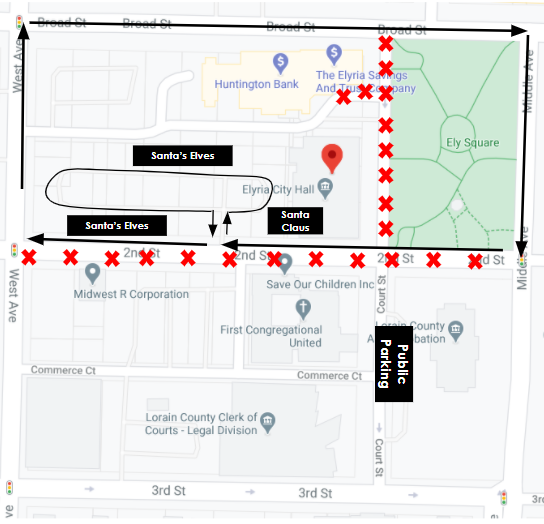 No eastbound traffic from West Avenue will be permitted; participants must enter the car line from Middle Avenue (from Broad, 3rd Street, or 2nd Street [westbound]). Vehicles exiting the drive-thru Santa house are only able to turn right onto Court street and right onto West Avenue.  
"We understand everyone's frustrations with event cancelations, program suspensions, returns to virtual work and school" said Mayor Frank Whitfield "We hope residents are able to join us for a brief moment of normalcy and tradition. These things matter. And finding ways to continue to build community safely and healthily, is one of our top priorities.
Residents unable to attend the in-person event can watch the brief Festival of Lights ceremony online through the Elyria, Ohio – Citizens Facebook account (fb.com/elyriaohio); additional drive-thru Santa House opportunities will be announced at a later date. 
For additional details and/or potential adjustments, visit www.cityofelyria.org.
###