Critically acclaimed Cleveland-area Singers Perform Holiday Classics in Socially-Distant Venue on Wednesday, December 23rd at 6:30 PM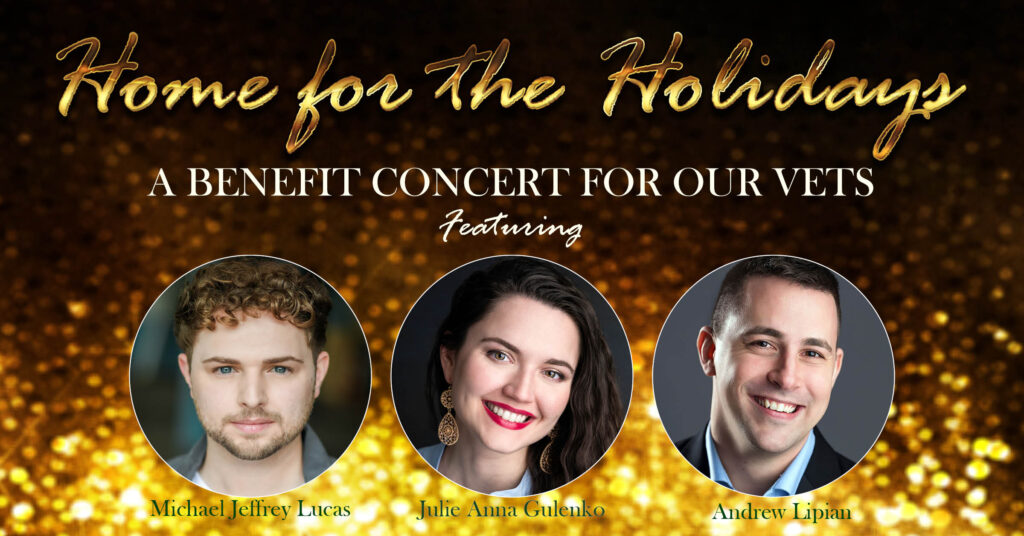 Elyria, OH – As menorah candles flicker in frosted windowpanes and merrymakers dress their Christmas trees, it's easy to forget that not all are so fortunate to have a home for the holidays. Severely injured post-9/11 veterans need homes with special accommodations, and some have lost their homes in disasters. One veteran in particular, from the Ohio Air National Guard (OANG), lost his home in a fire around Thanksgiving of this year. This prompted fellow-Guardsman Andrew Lipian to find a way to deliver much-needed aid. Lipian – an accomplished singer noted locally for his live-streamed "Porch Morale" concerts – contacted colleagues of his in the Cleveland area who expressed a desire to assist. The result: "Home for the Holidays: A Concert for our Vets." Lipian is turning his Garage into a live stage, with Christmas décor, first-rate sound provided by technician Yevgen Gulenko, and lighting effects. The concert will feature Holiday classics such as Believe (from the movie Polar Express), Blue Christmas, White Christmas, We Need a Little Christmas, O Holy Night, and others. Listeners can join via YouTube Live-Stream, listen in-person by parallel parking on the 600-block of Garford Ave, or listen from the sidewalk using decorative chalk-markings for social-distancing. At-will donations can be made on-site beside a warm fire, with special treats provided by Expresso Bakery – a sponsor of the event. Other sponsors include Fischer and Associates Architects Inc., which is providing the member a generous in- kind donation. Parties interested in assisting in any way can contact Andrew Lipian at homefortheholidays@mail.com.
YouTube Live-Stream Link on GoFundMe, or by searching "Home for the Holidays: A Concert for Our Vets" in the search bar on
Features Andrew Lipian, Julie Gulenko, Michael Jeffrey Lucas, and a special visit from Santa!
About Andrew Lipian: Elyria native Andrew Lipian is an award-winning composer and countertenor whose career in music began in England at the age of 13 — where he was identified as a countertenor by Marc Wildman, then-Head of Vocal Studies at the London Royal Academy of Music. From there, Lipian would trailblaze in the countertenor field, being the first to win the NATS competition, place a Top Prize at the Classical Singer's Competition in NYC, win the Top Prize at the Cleveland Singer's Club Competition, and was the first countertenor accepted to the Oberlin Conservatory of Music in its history. As a Regional Finalist in the Metropolitan Opera National Council, Lipian later obtained his Masters in Music from the University of Michigan. Lipian has also served in the OANG for 10 years.
-###-