ELYRIA, OH – The City of Elyria will honor Reverend Dr. Martin Luther King, Jr. for the thirty-fifth (35th) year in a row through a COVID-19 safe community-wide celebration, 'Embracing the Dream During the Unknown' on Monday, January 18 that includes a commemorative march, caravan, and outdoor program.
"We feel it is important, especially during these times, to continue with our commitment to the principles that Dr. King and the civil rights leaders of his time stood for." shared Mayor Frank Whitfield "we know with the pandemic, things have to be different, and we are excited to be able to offer a safe way for our residents to be able to engage from their car or home".
This year, the commemorative march includes representatives from the city of Elyria, Elyria NAACP, Lorain County Urban League, YWCA, and other invitation-based participants, to ensure the practice of physical/social distancing. Individuals, families, and/or organizations looking to participate may join a new 'commemorative caravan' to celebrate Dr. King's life and legacy. Those interested in joining the caravan must arrive at the City Hall Parking Lot between 9:30 – 9:50 a.m. for staging and line placement. Pre-registration is not required.
Community members hoping to participate in the caravan should follow the rough schedule below:
9:30-9:50 a.m. | City Hall Arrival & staging
10:00 a.m.       | Caravan & march to EHS Student Parking Lot (600 West Avenue)
10:20 a.m.       | Outdoor Program begins
The outdoor program includes a welcome message from Elyria NAACP president Ardelia Tolbert, an invocation by Pastor James R. Furcron of True Vine Permanent Baptist Church, community message from Mayor Frank Whitfield, musical selections from Brianna and Tommie Harris III, benediction from Reverend Kevin Currie of Mount Zion Baptist Church, as well as a community charge/keynote.
The celebration will be available for listening on CPS Ministry's 97.3 FM, courtesy of Second Baptist Church and Reverend Dr. Carl P. Small, and will also be streamed on Facebook LIVE at www.facebook.com/elyriaohio.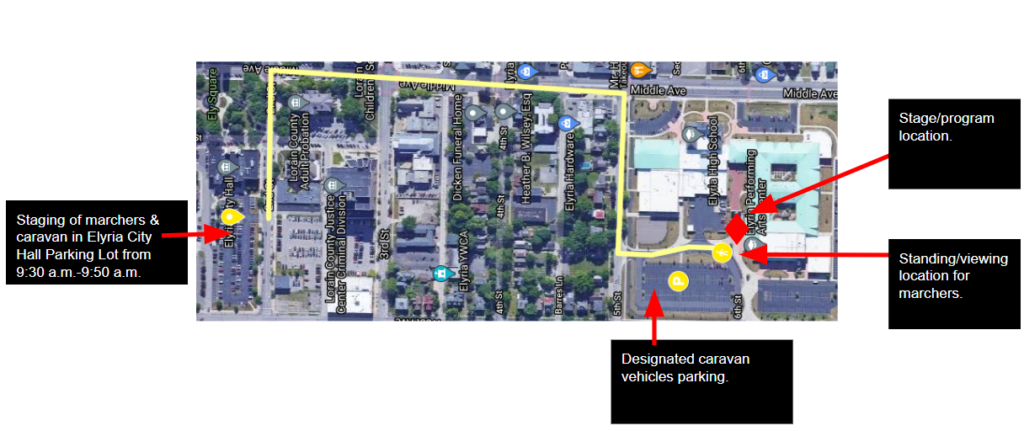 ###