waHYDRANT PAINTING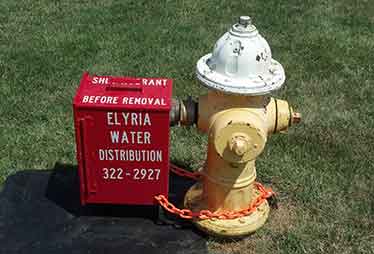 The City of Elyria does not have a hydrant painting program at this time. However, the Water Distribution Department will supply paint and brushes to residents and organizations who would like to paint them. The official color for the  City of Elyria hydrants are red body with white top. It is very important for the Fire Department to see the hydrants at a distance. Please do not pile leaves, brush, snow etc. around hydrants. To request paint and brushes, please contact us at 440-322-2927 or drothgery@cityofelyria.org.
HYDRANT FLUSHING BY WATER DISTRIBUTION DEPARTMENT
In the interest of keeping the City water supply of the highest quality, the City of Elyria participates in a Water Quality Flushing Program. We sample residential and commercial customers daily through various means, throughout the city when the weather is above freezing, including:
A vehicle traveling throughout the City to perform manual flushing and sampling.
Automatic units flush water at periodic intervals when there is less disturbance to residents.
PLEASE NOTE: When you see water blowing out of a fire hydrant, there is no cause for alarm – it is a normal function of this process. The water used is very small compared to the millions of gallons traveling through the 200 + miles of water mains in Elyria.
HYDRANT FLUSHING BY ELYRIA FIRE DEPARTMENT
In testing hydrants for flow and maintenance, Elyria Fire flushes hydrants annually. Occasionally this stirs up sediment in the water mains. Either wait for it to dissipate or flush your line with cold water in a tub or other faucet without a screen or aerator until clear.