OFFICER JAMES A. KERSTETTER
End of Watch: March 15, 2010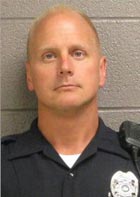 On March 15,
2010 at 2159 Hrs, Ptlm. James A. Kerstetter, a 15-year veteran of the Elyria Police Department, was fatally shot and killed while responding to a Neighbor Disturbance at 328 18th St in Elyria. Ptlm. Kerstetter made contact with Ronald W. Palmer at 326 18th St. Ptlm. Kerstetter entered Mr. Palmer's residence at 326 18th St. While inside the residence, Ptlm. Kerstetter was fired upon by Palmer. Ptlm. Kerstetter radioed for back up and advised that he had been shot. Ronald W. Palmer then exited his residence and was confronted by back-up officers who arrived on scene a short time later to assist Ptlm. Kerstetter. Mr. Palmer was then shot and killed by back-up officers.
Assisting Officers located Ptlm. Kerstetter inside 326 18th St. Ptlm. Kerstetter was transported to Elyria Memorial Hospital where he was pronounced dead upon arrival. The suspect Ronald W. Palmer who resided at 326 18th was pronounced dead at the scene.
Ptlm. James A. Kerstetter was employed with the Lorain County Sheriff's Office prior to being employed by the City Of Elyria. Ptlm. James A. Kerstetter was hired by the Elyria Police Department on September 6, 1994. Ptlm. Kerstetter served the Department as an Accident Investigator, Field Training Officer, and member of the Department's Special Response Team. Ptlm. James A Kerstetter is survived by his wife Tammy and three daughters; Misty 17, Shelby 14, and Bailey 8 years old.
A police officers badge proudly worn…
A hero and a friend proudly sworn…
His light in the world, now stolen away…
Deep felt sorrow will go on from that day…
All who knew him, take a moment to pray…
For his family and friends who must find a way,
To move past the horror, the loss, and the fears,
Push past the pain and stinging tears…
Remember the husband, the father and son…
Remember that smile he gave everyone
A comrade, protector, true brother in blue,
honorable, loving, strong and true,
Now guarding the heavens, EPD 177
~ Poem byfellow Officer Halvorsen's wife Christine
OFFICER BRADLEY T. SCOTT
End of Watch: August 27, 2004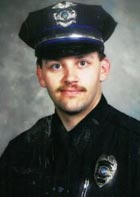 On August 27, 2004, Elyria Patrol Officer Brad Scott was killed in a motorcycle crash while on authorized paid union leave and working a Police Union event. The crash occurred shortly after 4:00 PM, when Officer Scott drove his personal motorcycle to complete errands for the event.
Officer Scott was driving northbound on Middle Avenue, approaching 16th Street, when a vehicle failed to yield the right of way and attempted to turn northbound onto Middle Avenue from 16th Street. Officer Scott attempted to take evasive action by laying the bike down, but unfortunately he and the bike struck the right front tire of the suspect vehicle. Officer Scott suffered fatal injuries upon impact and died at the scene.
The driver of the suspect vehicle was subsequently charged and convicted of driving under the influence of marijuana and driving with a suspended license. The driver was sentenced to one year in jail.
Officer Scott faithfully served with the Elyria Police Department for eight years and was survived by his wife and two children.
OFFICER HOWARD TAFT
End of Watch: August 18, 1942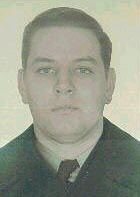 The Fraternal Order of Police Associates has honored Howard Taft, the first officer in the City of Elyria to lose his life in the line of duty through the "Howard Taft Memorial." Howard B. Taft's name is inscribed on the National Law Enforcement Officers Memorial Wall, Judiciary Square, Washington, D.C., on panel 39, west wall, line 14.
Norm Drew of the Greater Cleveland Peace Officers Memorial Society provided the following narrative of Howard Taft's "End of Watch" on August 18, 1942:
Patrolman Taft was taking his fellow officer Andress home. Andress, on the force one month, was off-duty. A call came on the cruiser's radio to investigate a minor accident. Thus began a bizarre account of three violent deaths.
Taft's investigation completed, he determined that Nathaniel Spuriel, whose expensive coupe had collided with another car, was intoxicated. Taft took the wheel of the coupe to bring the Clevelander to Police Headquarters asking Andress to follow in the cruiser. About one hundred feet from the accident scene, Taft stopped and left the car to free a front fender that was scraping a tire. An eyewitness to the events that followed was standing on the sidewalk.
Spuriel removed the keys from his car. Taft ordered him to surrender the keys and an argument broke out. Taft retrieved the keys and ordered Spuriel back to the car. Both Officer Andress and the eyewitness, Arthur DuReitz, said that Spuriel fired a shot from the car and then jumped out and grappled with Taft. Taft pulled his pistol and fended off the resisting man. Andress, unarmed, attempted to go around Spuriel's car, grabbed a rock to circle around from behind, but was driven back when Spuriel shot at him.
Spuriel followed Taft to the street, both men's guns blazing. Taft sustained gunshot wounds in his abdomen and hip but managed to put three bullets into the heart of his assailant, killing him instantly.
Andress rushed Taft to the hospital where he died an hour and one half later. Spuriel's car revealed something interesting when it was searched at headquarters. A woman's nude body was discovered in the trunk. She had been beaten to death. She was identified as being involved with Spuriel, and they were to appear for trial that week in connection with operating a house of prostitution.
Officer Taft's chief interest in private life was his wife and his eight months old baby son. He had become one of the best liked on the force, with a high devotion to his duties and a strict sense of propriety in his work. Taft was twenty-nine at the time of his death.
Survivors included his wife Georgia his son Gary, a brother and his mother Mrs. Clifford Waltzer of Cleveland.