Elyria, Ohio – Columbia Gas is set to begin a project in Elyria's Eastern Heights Neighborhood to replace aging gas lines with newer, state-of-the-art plastic pipe. Work will take place in the area generally bounded by Kenyon St. (north), Eastern Heights Blvd. (south), East River St. (west) and Prospect St. (east). In total, crews will install about 7,500 feet of new pipe, serving approximately 330 homes.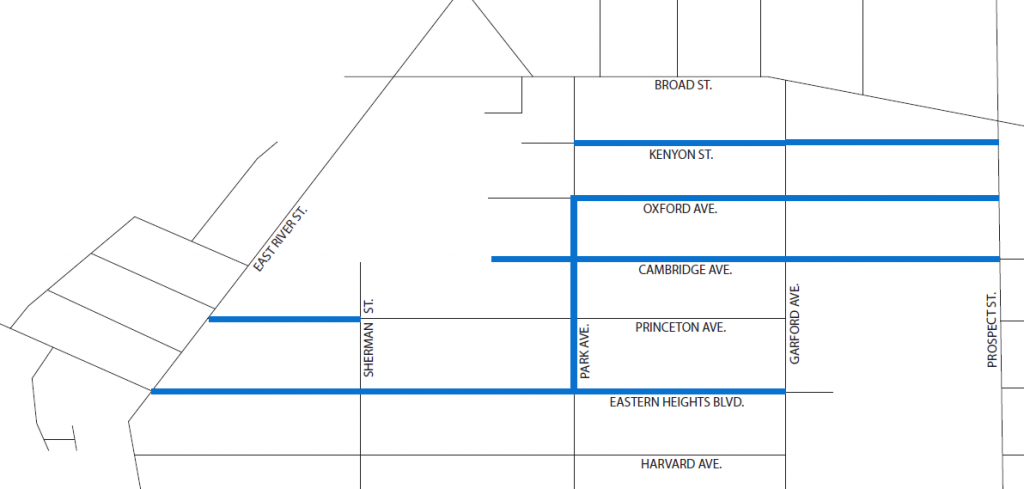 Oxford Ave. Informational Mailer
Columbia Gas will host virtual public meetings Wednesday, February 17 at 5:30 PM and Thursday, February 18 at Noon for any residents with questions. Dial-in information included below.
The new plastic pipe has several benefits, including enhanced safety features and the ability to bend to the earth's contour while expanding and contracting with shifting temperatures. Once installed, the modernized system will last longer and reduce the amount of future maintenance required for upkeep.
There is no additional cost to customers for this project. This work is part of Columbia's 25 year, $2 billion plan to improve the safety and reliability of more than 20,000 miles of underground natural gas pipe.
The project will require only a short interruption to natural gas service. Columbia Gas crews or contractors will contact customers before shutting off service and scheduling relight appointments. All employees and contractors carry identification cards with their names and photograph and must show them upon request. In light of COVID-19, crews are also following strict recommendations from the Centers for Disease Control and Prevention to keep everyone safe.
By mid-February, residents should expect to see crews and equipment in the area. Following pre-construction work (camera, staking, surveying, etc.), Columbia Gas and its contractor, Miller Pipeline, will begin construction by installing the new main line and then proceed to service lines for individual homes. Some gas meters may be relocated as well.
The project should conclude by this summer or early fall, depending on weather conditions and other factors.  Columbia Gas will restore all property affected by construction.
For more information, visit ColumbiaGasOhio.com/Replacement. For a short video explaining the process, visit https://vimeo.com/481327238
Virtual meeting dial-in information:
Video Link: https://nisource.webex.com/meet/bcutler 
Conference Line (Toll): 1-203-607-0564
Conference Line (Toll Free): +1-866-692-3580
Passcode: 173 694 5189
###
For additional information, please review the Oxford Avenue Informational Mailer mailed to residents from Columbia Gas.
Contact: Ben Cutler, External Affairs Specialist, Columbia Gas,  216-215-4103