Elyria, OH  |  The City of Elyria and We Care Elyria collaborative are partnering with Goodwill of Lorain County and Techne to provide residents with free computers and training this fall.
"These last few months within the coronavirus pandemic have magnified the importance of digital access for our residents – especially those who have struggled to perform basic tasks from home that they would otherwise do in person," shared Mayor Frank Whitfield.  "Our hope is to provide residents with the tools and skills they need to thrive in today's online environment. A computer and technology training will enable residents to pay bills, have virtual doctors appointments, and even order groceries. Further, this program can help participants who may have been isolated connect with their loved ones that they may not have been able to see in person." 
This initiative kicks off with a Tech Donation Drive on Saturday, September 19th from 9:00 AM – 1:00 PM at the Elyria Goodwill Store, front parking lot, located at 502 N. Abbe Road in Elyria. Individuals, organizations, and businesses are encouraged to drop off old, new, used, and/or repairable laptops, desktop computers, and tablets.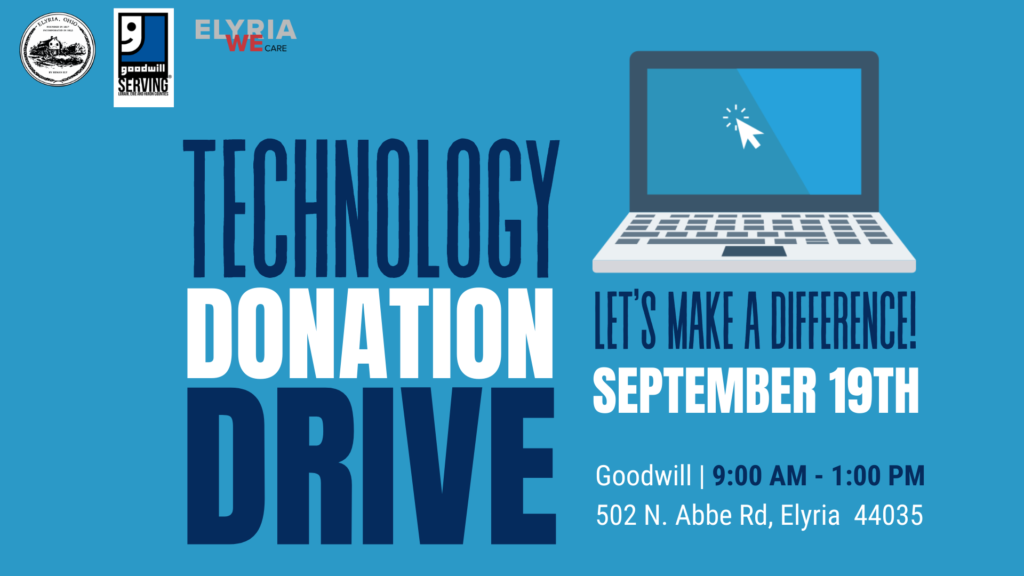 The initial goal is to equip 100 Elyria residents with skills and technology before the end of the year. 
How to Sign Up: Individuals interested in a computer and/or training should complete a Tech Donation Request Form at www.elyriacares.com or by calling the We Care Elyria Helpline at 440-305-0455.  
Eligibility: Participants should be Elyria Residents and are required to attend 2 weeks (4 total classes) of basic computer training. Slots are available on a first-come, first-served basis for 100 participants. A free desktop or laptop computer will be provided upon completion of this program. Questions about the course/curriculum and time offerings should be directed to Alonzo Vance, Director of Mission Services at Goodwill at (440) 244-3174.
Technology Skills Training: Training will be facilitated by Bart Gonzalez of Techne, a locally owned and operated business which provides low-cost computers and classes throughout Lorain County. Training sessions will be held at the Elyria Goodwill, and focus on introductory computer and internet usage skills. 
Volunteer Opportunities: Volunteers are needed to make this program a success. If you can assist with the Tech Donation Drive in any capacity, please sign up through the WeCareElyria website at elyriacares.com, or email the Office of the Mayor at mayor@cityofelyria.org 
###
ABOUT THESE PARTNERS
GOODWILL INDUSTRIES is a community-based organization providing education, job training and employment services as well as job placement and post-employment support. The partnering Goodwill Agency has offices at 145 Keep Court in Elyria. They can be reached at 440-244-3174, extension 400 or info@gwlco.org. Learn more about Goodwill Industries of Lorain County at www.gwlco.org.   
TECHNE is a locally owned and operated computer training service which provides devices and training at low cost throughout Lorain County. Techne owner Bart Gonzalez can be reached at (440) 782-1159 or techne.bart@gmail.com.  You can also learn more at  https://sites.google.com/view/loraincountydigitalskills/ 
WE CARE ELYRIA gathers volunteers with the collective goal to help Elyrians by delivering food, life's essentials, and now, computer training, to individuals in need throughout the COVID-19 pandemic. To access services or to volunteer, call the hotline at (440) 305-0455 between the hours of 9:00 AM – 7:00 PM Monday through Friday. You can also visit their website to sign up, at elyriacares.com.