ELYRIA, OH – The City of Elyria is hosting its first-ever Engaged Elyrian week, to encourage residents to participate in important community dialogue around human-centered transportation, learn about ways to get involved in economic and community development, and apply to work for various departments in the City with available roles. 
"As we coordinated events for this month, we realized there was an opportunity to really 'make a week of it,' and encourage Elyrians to connect with us as often as possible across a variety of topics – general discussions, providing suggestions and ideas around biking and walking in our community, learning about the newly formed Elyria Community Development Corporation, and exploring ways to start a career with the City" shared Assistant Safety Service Director Ren Flanders. "It's a fairly unique opportunity to connect with leaders and partners throughout the City." 
Details and registration links for each event is available at cityofelyria.org/engage. 
An outline of the week is included below: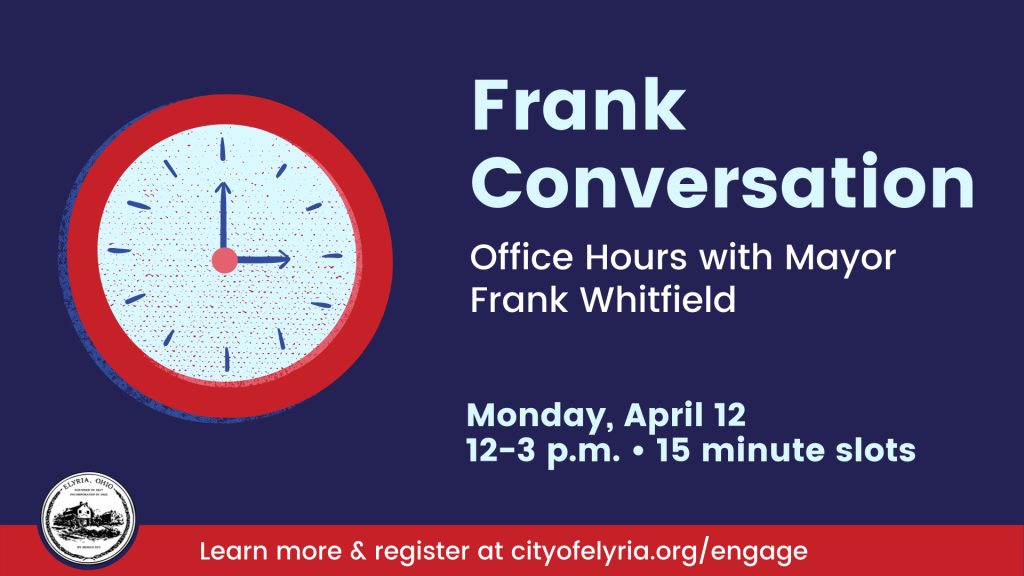 Monday, April 12
Frank Conversation with Mayor Whitfield: Office Hours

12:00 – 3:00 p.m. via Zoom & Telephone
Office Hours with Mayor Frank Whitfield allows for residents to have dedicated, scheduled time with Mayor Whitfield uninterrupted. Share 15 minutes with Mayor Whitfield via Zoom to share your ideas, ask questions, and propose solutions around our community's challenges. 
How to Participate:
Register at

cityofelyria.org/engage

for a time slot; times are available on a first come, first served basis. 

Details to join will be shared via email and/or phone ahead of Mayor Whitfield's Office Hours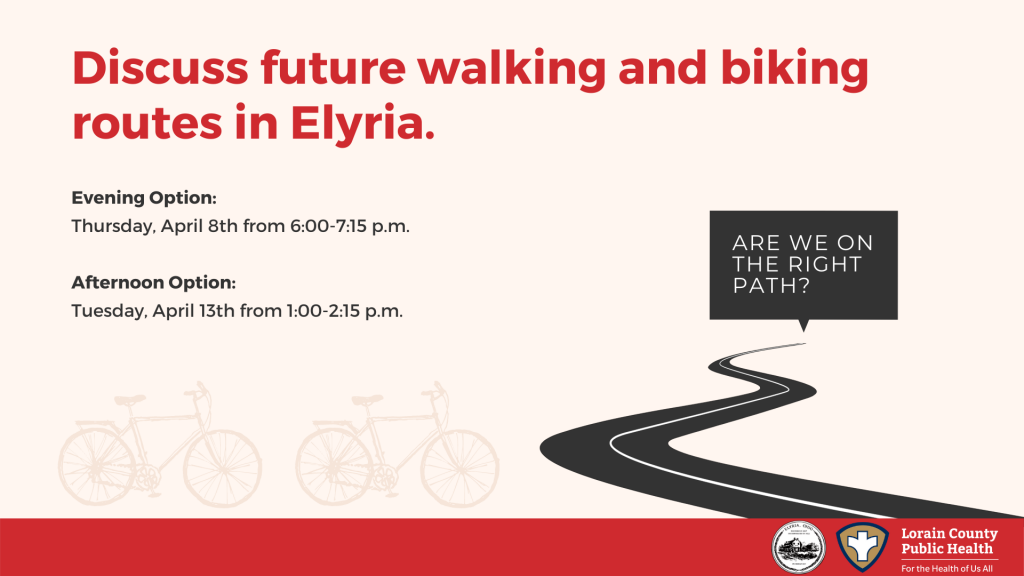 Tuesday, April 13 
Community Chat #3: Prioritizing & Confirming the Active Transportation Plan.

12:00 – 1:15 p.m. via Zoom & Facebook Live 
Give your input on walking and biking routes in your Elyria neighborhood to help the City of Elyria, in partnership with Lorain County Public Health, create a safe community for everyone that walks, bikes, rolls, or drives during this interactive planning discussion. 
Participants will review proposed solutions through the developing Active Transportation Plan, and help to prioritize each project. 
How to Join:
To join a meeting and view the presentation, you will need internet access and to download the meeting platform (

Zoom

) on a computer or phone. You can share input after the presentation has ended via video chat or via voice only. If you do not have internet access, call in via phone at the time of the meeting: 1-646-876-9923 and enter the meeting ID and passcode. 

Tuesday, April 13th meeting ID: 892 4053 1599; passcode: 44035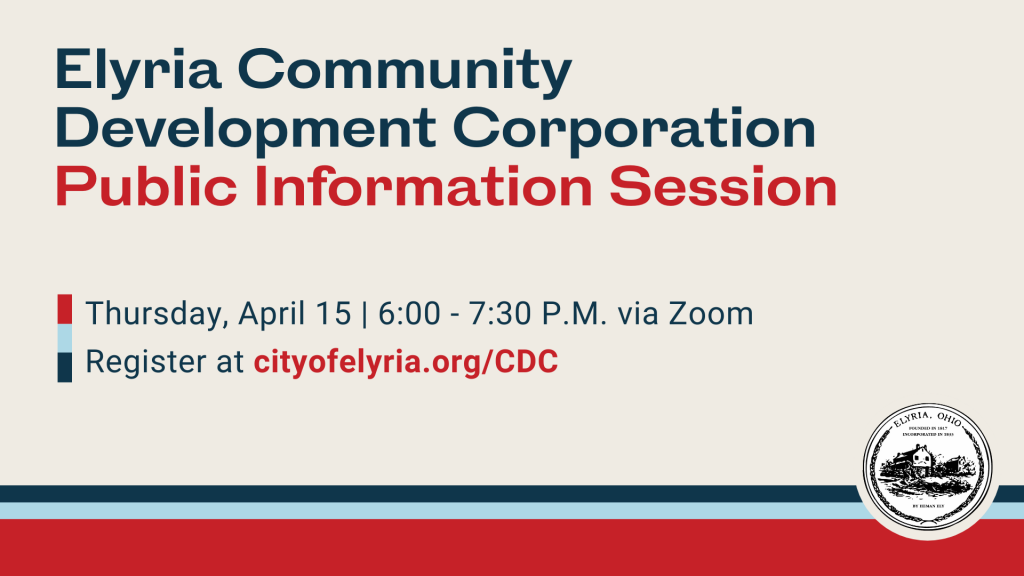 Thursday, April 15 
Elyria Community Development Corporation Information Session

6:00 – 7:30 p.m. via Zoom; registration required 
The City of Elyria, in partnership with the newly developing Elyria Community Development Corporation (CDC), is hosting the first public information meeting on Thursday, April 15th from 6-7:30 p.m. via Zoom. 
Participants can expect to learn about Community Development Corporations and their functions, the current progress towards the goal of establishing an Elyria CDC – including details about the existing steering, events, governance, and downtown development committees, as well as dedicated time to ask relevant questions or share feedback.
Register at elyriacdc.eventbrite.com.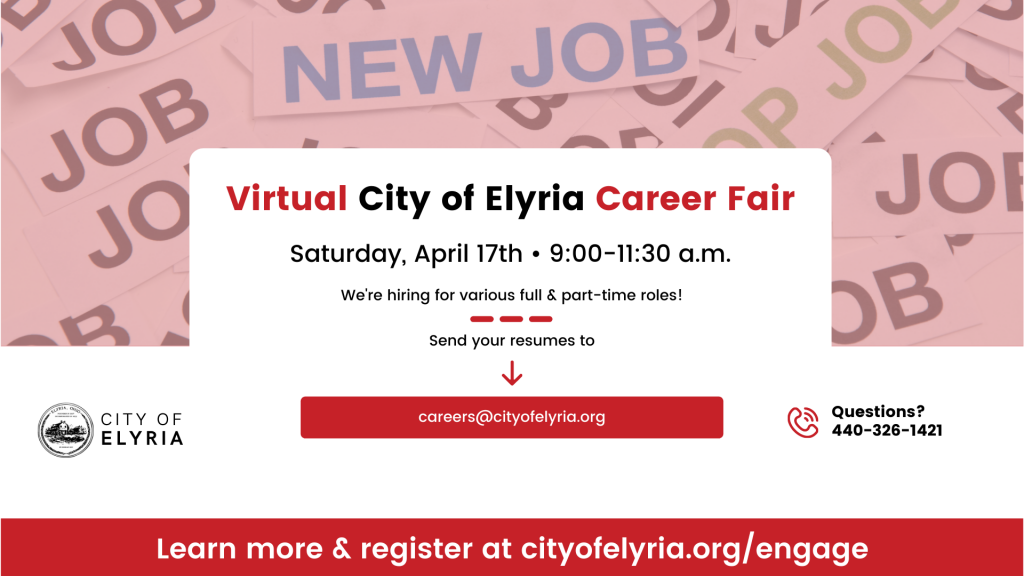 Saturday, April 17 
Virtual City of Elyria Career Fair

9:00 – 11:30 p.m. via Zoom; registration required
The City of Elyria is hosting a virtual career fair to connect eager job-seekers to full-time municipal employment, including roles for a(n): 
Human Resources Director

Community Development Project Manager

Project Engineer

Police Officer – Lateral Transfer

Information Technology (I.T.) Technicians

Camp Counselors

Camp Director
Additionally, Various part-time roles are available in nearly all City departments. Detailed job descriptions are available at cityofelyria.org/job-postings. 
Register at elyriacareerfair.eventbrite.com. For additional information, contact the Human Resources Department at 440-326-1421. 
"We're excited to host these initial opportunities, and look forward to engaging with Elyrians throughout this week and beyond." shared Assistant Safety Service Director Ren Flanders 
For additional information about Engaged Elyrian Week, and how to get involved, visit cityofelyria.org/engage, or  contact the Office of the Mayor and Safety Service Director at 440-326-1402. 
###