Elyria, OH – The City of Elyria Fireworks Show returns to West Park on Friday, July 2 for an evening of family fun, entertainment, food, and fireworks. Ahead of attending, review the fireworks schedule and park instructions below:  Agenda:
6:00 p.m.: West Park Open to Public; food vendors and activities open 

6:30 p.m.: Entertainment begins (see schedule below) 

10:00 p.m.: National Anthem, Fireworks to immediately follow 
Activities and Food Vendors:  Bounce houses will be on site for youth to enjoy at no cost once West Park opens. Additionally, for your dining pleasure, Gold Star Food Service (traditional carnival fare), 3Chicas (street foods, including hot dogs, Italian sausage, Po'Boys, pastelitos, and more), Hershey's Ice Cream & More (sweet treats and snacks) and Cofield's Corner BBQ (variety of BBQ and smoked options) will be available on-site for purchase beginning at 5:00 p.m.  Entertainment: Before the firework show begins, grab a lawn chair or blanket to hear amazing local acts, including: 
6:30 p.m.

: ET King and the Determination, authentic sounds of Motown, R&B, blues, funk, and more. 

8:00 p.m.:

Lydian Jazz Band, bonafide 'grown folks' music' of beloved R&B and jazz standards of our generation.

9:30 p.m.:

Caliber Band, bringing the best in today's modern country music with some classic country. 
Parking & Traffic Details:  While the City has worked to create parking for the event, only a limited number of parking spots are available. As a result, carpooling, walking, or bike riding is recommended to get to the event. Additional details are included below:  Handicap Parking: Enter the Central West Park Parking Lot via the Foster Avenue entrance. An official Handicap Parking Identification Tag will be required to gain access for drop-off and parking. Prohibited Parking: To ensure safety of all residents and attendees, parking has been restricted on the following streets:
Clemens Avenue – Both sides from SR 113 to West Park (Oakwood Avenue)

Oakwood Drive – Both sides from Clemens Avenue to Penfield Avenue.

Penfield Avenue – Both sides from Oakwood Avenue to Lowell Street.

Lowell Street – Both sides from Lake Avenue to Elyria Corp. (West of the railroad track overpass.)

Foster Avenue – Both sides from West Park to Woodland Avenue and the westbound side from Woodland Avenue to Lake Avenue.

Spruce Street – Both sides from Penfield Avenue to Oakwood School.
Residential Traffic: Only residential traffic will be permitted on Rockfern and Seneca avenues.  Adjusted Traffic Patterns: View the images below.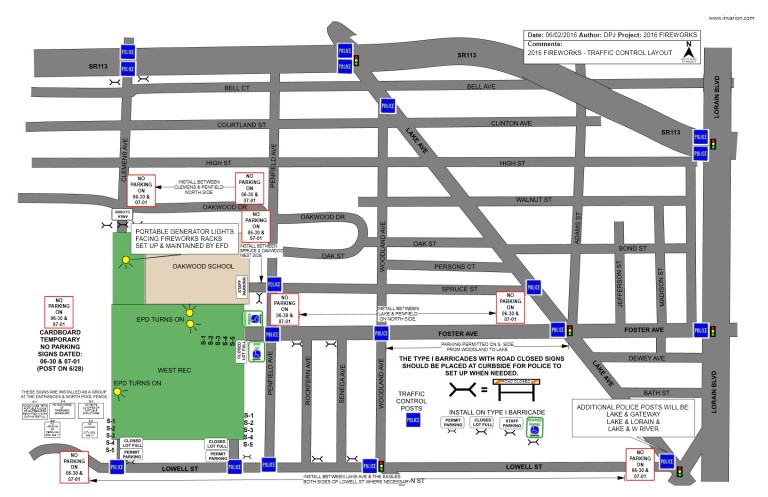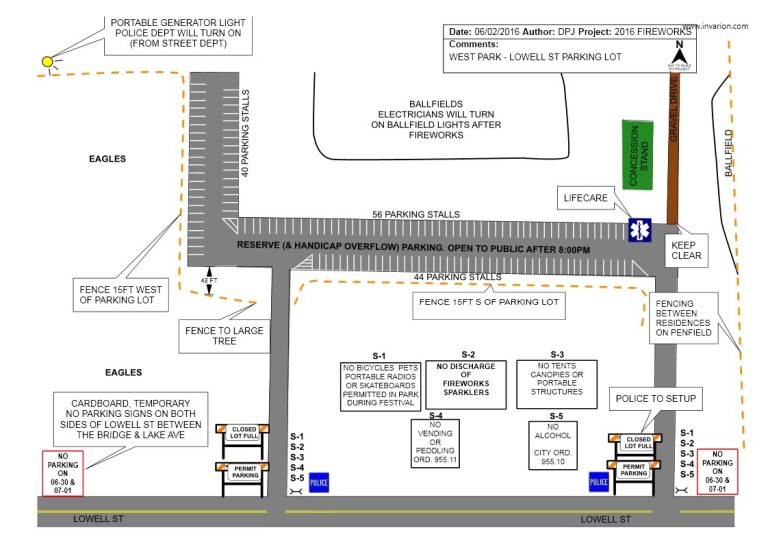 Please note any posted signage in the area in regards to parking; be mindful of traffic controllers and EPD.    Park Rules & Reminders: What's Allowed in the Park:
Blankets, Beach Towels, Tarps, Lawn Chairs, and Personal-Size Umbrellas

Cameras, Cell Phones, Binoculars 

Water Bottles, Food, and/or coolers

Baby Strollers and Wagons

Flashlights

Bug Repellent
Please note: all items brought into the park are subject to City inspection.  What's Strictly Prohibited in the Park:
Fireworks

Throwing and/or batting toys

Laser Pointers

Alcohol

Illegal Drugs and Substances 

Tents

Drones

Large Golf Umbrellas and/or Flags
Curfew For safety and security, the City of Elyria will enforce an 11:45 p.m. city-wide curfew to encourage residents and visitors to leave West Park and its surrounding neighborhood immediately after the fireworks show concludes.  Updates, including any delays, will be provided www.cityofelyria.org, and/or the City's Facebook page at www.facebook.com/ElyriaOhio. For questions, contact Elyria Parks and Recreation at 440-326-1500, or parks@cityofelyria.org.