ELYRIA, OH – The City of Elyria was awarded a $362,500 grant from the Ohio Department of Natural Resources Land & Water Conservation Fund for a West Park Trail & Improvement Project that includes the development and construction of:
2-mile all-purpose loop trail, including additional internal park paths to connect existing fields and facilities;
Four (4) pickleball courts; and an
Additional outdoor restroom facility.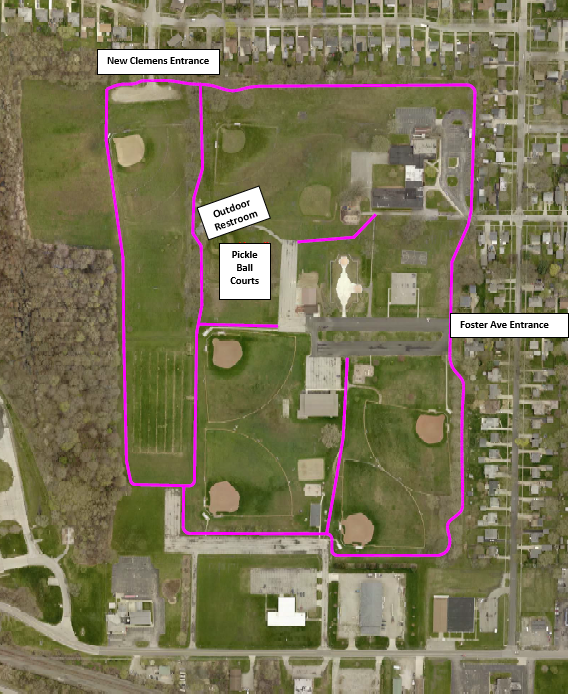 The West Park Trail will also connect with the neighborhoods surrounding West Park, by now providing additional access to park facilities from Clemens Avenue and Lowell Street – an element of connectivity important through the developing Elyria Active Transportation Plan.
"We are excited to have been awarded this grant, and to continue making improvements to city parks for residents." said Parks and Recreation Director Carrie Reardon
The city's Parks and Recreation Department, under the direction of Director Carrie Reardon, as well as the Office of the Mayor and City Engineer John Schneider, worked with grant writing consultants McCaulley&Company to develop the project in late Summer/early Fall of last year.
In November 2020, City Council unanimously approved the $725,000 grant application to be submitted to the Ohio Department of Natural Resources. The Land & Water Conservation Fund grant requires a 50-50 match.  The City will cover the remaining half of the project cost with the Parks and Recreation Department's allocation of Issue 6 funds.
"Issue 6 Dollars have allowed us to apply for matching fund grants; this project would not be possible at all without the residents' support of Issue 6 – having those matching dollars is really a game-changer." shared Director Reardon.
"I am so thankful for the walking trail and other improvements at West Park, and I am positive that the residents of the 6th Ward, and all of Elyria will enjoy them" added Councilwoman Donna Mitchell. "We welcome these developments in our community, and look forward to being able to enjoy these additions by Spring 2022."
The project will receive funding in September 2021, at which time engineering plans can be completed and requests for proposals (RFP's) can be issued for bids.
Additional details will be available at cityofelyria.org as the project moves forward. For questions, please contact the City of Elyria Parks and Recreation Department at 440-326-1500, or parks@cityofelyria.org.
###