Festival of Lights
04dec3:00 PM7:30 PMFestival of Lights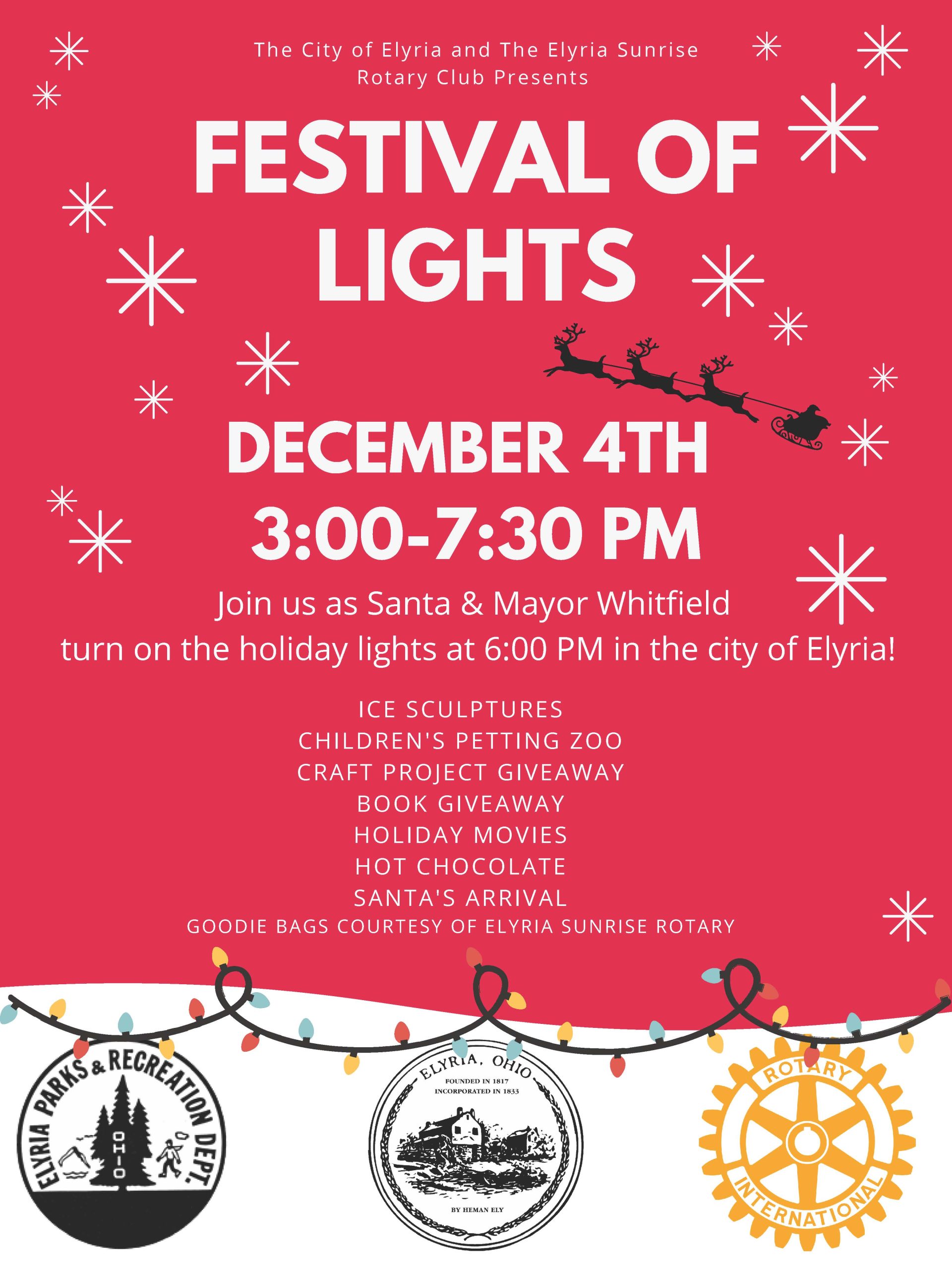 Event Details

ELYRIA, OH – The City of Elyria's beloved Festival of Lights tradition is BACK and will be held Saturday, December 4th, from 3:00-7:30 p.m.  The event — hosted in partnership with Elyria Sunrise Rotary, Elyria Parks and Recreation Department, The Elyria Fire Department, and LifeCare Ambulance — will take place in-person at Ely Square as well as inside City Hall. Last year, residents experienced a unique drive-thru experience due to COVID-19 but this year we're excited to bring back the in-person celebration.

"The City of Elyria is excited to have the Festival of Lights celebration in person this year while we are coming out of the pandemic," said Mayor Whitfield. "Last year, we did a drive thru celebration because of the pandemic but this year we will be welcoming Santa to Ely Square where our City Of Elyria staff has done an amazing job decorating. We also are thankful for the partnership with Rotary who will be providing goodie bags for children. We invite Elyrians to join us downtown for a full day of fun on December 4."

For the past 21 years, the Elyria Sunrise Rotary has brought smiles to the faces of Elyria's youth through its support of the city's Festival of Lights celebration.  This year goodie bags will be handed out to children, and families are encouraged to bring their letters to Santa.

This year, families can anticipate:
Ice Sculptures
Petting Zoo
Book Distribution
Hot Chocolate
Take home craft project
Goodie bags courtesy of Elyria Sunrise Rotary
Food Trucks
Holiday Movies in Council Chambers
There's a lot of fun and excitement planned for the Festival of Lights this year including an appearance by the jolly guy himself, Santa Claus!
3:00-6:00 pm | Ely Square Festival of Lights
5:30 pm | Here Comes Santa Claus: Santa makes his way to Ely Square – Santa will be dropped off on 2nd Street in front of the Old Court House
6:00 pm | Light The City: Santa and Mayor Whitfield go to the Ely Square Stage area to address the crowd and turn the lights on in the city
6:00 – 7:30pm | Santa Greetings: Santa will wave, greet children and families at the stage.  Families and children will stand in front of the stage area where pictures can be taken (families use their own cameras). Rotary helpers will direct children and families through the passing area and distribute "goodie bags" to children and collect any lists they may have for Santa. Santa and helpers will remain until all families have had a chance to pass by (or until 8:00 / 8:30)
In addition to the Festival of Lights, The Elyria Winter Market will be open Saturday's this holiday season from November 27th – December 18th 10:00 am – 5:00 pm inside City Hall (131 Court Street) including Saturday, December 4th during the Festival of Lights.
more
Time

(Saturday) 3:00 PM - 7:30 PM