Try Ice Skating at the Ice Rink (North)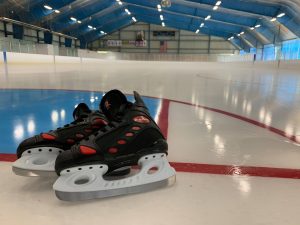 North Park Ice Arena
901 Duffey Street
Elyria, OH 44035
Phone: 440-365-4251
DAYS
HOURS
ADULT
YOUTH
SKATE RENTAL

Thursday




Adult Skate

1:30 – 3:30 PM

$3

$3

Friday

7:00 – 10:00 PM

$5

$3

Saturdays

1:00 – 3:00 PM




7:00 – 9:00 PM

$4

$3

Sundays




Family Skate

1:00 – 3:00 PM




6:00 – 8:00 PM

$4




$3.50

$3
More information: https://www.cityofelyria.org/department/parks-and-recreation/ice-arena/
Dine Locally in Elyria
Smitty's: https://www.smittyselyria.com/
368 E Bridge St, Elyria, OH 44035
When you ask someone in Elyria what they know about Smitty's, they will more than likely tell you we have a great burger! Smitty's has been serving the Elyria community with food and good times since Mr. George Smith started the business 75 years ago. Since that time the business has only exchanged hands a few times but it has always been kept a family affair. Dick and Lottie Spinks operated the business for over twenty years; after that their daughter owned it; and now our family, Steve and Karen Frank with their daughter Stephanie, have kept the tradition going since 1992.
Foundry Kitchen & Bar: https://foundrykitchen.bar/
525 Broad St, Elyria, OH 44035
Foundry Kitchen & Bar is Lorain County's new restaurant and bar located in downtown Elyria. Foundry Kitchen boasts a chef driven, locally sourced, from-scratch menu highlighting traditional favorites and seasonal offerings along with a gluten free and vegan options as well. Foundry Bar is fully stocked with all the popular selections and features craft beer, a fine selection of wine and a variety of small batch bourbons! Please make plans to join us for Lunch, Dinner, Sunday Brunch or to just relax with a drink at the bar. We look forward to seeing you soon!
Blue Sky Restaurant: https://www.blueskyrestaurant.net/
​802 Cleveland Street Elyria, Ohio 44035
Check Out a Book at The New Elyria Public Library
The Elyria Public Library System, Lorain County's oldest, was established in 1864 by the will of Charles A. Ely. Opening in 1870 with 2,000 books, the system has grown to serve patrons in Elyria and LaGrange with 5 agencies plus the Bookmobile.
Elyria Public Library System Locations & Hours
Central Library211 Second Street
Elyria, Ohio 44035
(440)323-5747
Hours
Mon – Thurs: 9am – 8pm
Fri and Sat: 9am – 5pm
West River Library
1194 West River Rd N.
Elyria, Ohio 44035
(440)324-2270
Hours
Mon – Thurs: 9am – 8pm
Fri and Sat: 9am – 5pm
EPLS @ LCCC
1005 N Abbe Rd.
Elyria, Ohio 44035
(440)366-4919
Visit LCCC Bass Library for hours.
South Library
340 15th Street
Elyria, Ohio 44035
(440)323-7519
Hours
Mon – Thurs: 9am – 8pm
Fri and Sat: 9am – 5pm
Keystone Library
133 E Commerce Dr.
LaGrange, Ohio 44050
(440)322-0119
Hours
Mon – Thurs: 9am – 8pm
Fri and Sat: 9am – 5pm
Visit the Famous Waterfalls of Cascade Park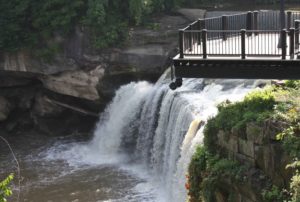 387 Furnace St  Get Directions
Operated by Lorain County Metro Parks
Visit Historic Downtown Elyria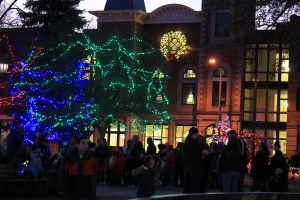 Take a beautiful winter stroll through Elyria's historic downtown.
Go Fishing at Rowland Nature Preserve
7621 Murray Ridge Rd, Elyria, OH 44035
A beautiful place to walk the trails, fishing and birdwatching! 
Visit Hickories Museum Lorain County Historical Society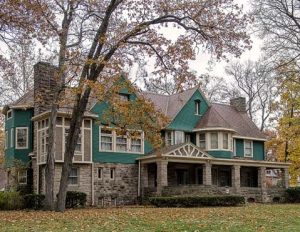 Tour The Hickories and "Meet the Garfords", the family for which this beautiful house was built. Construction began in 1894 and was completed in 1896.
Guided tours take approximately 45 minutes and require the ability to climb stairs. Tours are limited to groups of six or fewer individuals from the same self-defined/family group.
Tours are offered Wednesdays, Thursdays and Fridays at 1:00 PM; the first Saturday of each month at 1:00 PM; and other times by appointment.
Tour Fees: Adults $5; Students & Children $3, Under 6 FREE; LCHS Members FREE
Contact LCHS at (440) 322-3341 or education@lchs.org to arrange for a tour.
Visit the Local Coffee Shop - Erie Island Coffee Shop
148 Middle Ave, Elyria, OH 44035
One look at our espresso drinks and you'll know you've discovered a whole new level of coffee - our innovative latte art with every cup speaks for itself. The coffee itself is a whole new breed, with not a trace of bitterness and a delightful hint of chocolate and sweetness, the result of an amazing blend of five artisan-roasted beans.
More info: https://www.erieislandcoffee.com/
Attend Trivia Night and Grab a Cold One At Unplugged Brewery
Unplugged Brewing is all about "unplugging" from the stresses of every day life, and providing a place where you can relax and drink beer.
201 E Bridge St, Elyria, OH 44035
Grab an Ice Cream Cone at Elmers Ice Cream
Walk-in ice cream shop featuring Toft's Hand Dipped and Soft Serve Ice Cream & Foods.
212 East Ave, Elyria, OH, United States, Ohio
Effective Sunday October 31st:
Monday and Tuesday: Closed
Wednesday through Friday: 11am to 6pm
Saturday and Sunday: 2pm to 6pm
Pick Up a Pastry (Or Two) at Expresso Bakery
Specialty donuts, pastries, bagels, & MORE! Stop in to fulfill your bakery needs!
100 4th St, Elyria, OH 44035
Take a Walk at East Falls River Walk
Learn Archery at Black River Archery
Participate in the Various Parks and Recreation Activities
Our Parks and Recreation Department provides residents and visitors with abundant opportunities to enjoy our beautiful City and all it has to offer, from lush parks and green spaces to swimming pools, athletic fields, recreation centers, a skate park, and an ice rink. Programming runs throughout the year, with activities for all ages and abilities.
All Activities: https://www.cityofelyria.org/department/parks-and-recreation/
Stroll The North Coast Inland Trail
The North Coast Inland Trail, also known as the skinniest park in the Lorain County Metro Parks system, is open to non-motorized traffic of all kinds (except skateboards), including walkers, runners, bicyclers, in-line skaters and cross-country skiers. The trail's long 13-mile straight-aways pass through a variety of countryside including farm, field and forest, and numerous intersections serve as convenient places to jump on or off the trail. So grab your bike, in-line skates or cross-country skis and check it out!
1. Gateway Trailhead, 6302 Gateway Blvd., Elyria, OH 44035
2. Butternut Ridge Trailhead, 44342 Butternut Ridge Rd., Oberlin, OH 44074
3. Access to the NCIT is available near 265 South Main St., Oberlin, OH 44074**
4. Access to the NCIT is available near the Kipton Community Park, 57 Rosa St., Kipton, OH 44049**
Attend a Showcase at The Elyria Arts Council (Painting class, shop)
336 Broad Street
Elyria, Ohio 44035
(440) 328-3025
elyriaartscouncil@gmail.com
Gallery Hours:
Thursday 11:00 am – 3:00 pm
Friday 11:00 am – 3:00 pm
Saturday 11:00 am – 3:00 pm
Located in Elyria, Ohio, the Elyria Arts Council is a gallery and community devoted to making "Art Happen" in our city. As a 501c3 non-profit organization, we strive to better our community through art, starting with the colorful murals wrapped around our building that were painted by our member artists. You might have seen some of our artists' work at The Garford Arts Festival but each month in our gallery, we host special shows of our artists' work to showcase the talent and creativity in our town.
We know that sometimes people need to take their first steps into the world of art though which is why we offer classes in painting, photography, and pottery in addition to hosting "Art Nights" for adults who want to explore a wide variety of art media. This opportunity to explore the arts is also given to children through our Kids' Art drop-in program where children can create a low or no cost art project and maybe even build up the confidence to enter our popular annual Creative Christmas Tree Contest.
Come and see for yourself the wonderfully creative spirit found in Elyria.
Go Roller Skating/Blading at Roll Arena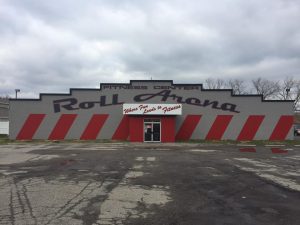 908 Cleveland Street Elyria Ohio 44035
Roller Skating | Roller Blading

Recreational
Artistic Club
Public and Private Lessons

Birthday Parties
Rock Climbing
Arcade Games
Fitness Center
And Much More!
Check Out Cookies' 10 Pin Bowling
252 South Abbe Rd.  Elyria Ohio 
Cookies' 10 Pin is a place to relax, play, and have fun.  We strive for good service, good selections, and great fun. Newly updated synthetic lanes and omputer scoring.  The top running ball returns add to a retro feel. What can we say, we like to eat, drink, and bowl.  Our kitchen is known for producing great food. 
Join The Active People (TAPS) - Elyria Parks & Recreation Dept.
The Active People Program is designed for all 55+ men and women to enjoy physical activities and fellowship. The program is FREE and is funded by Community Development Block Grant Funds. Must Register To Participate. Registration is Free!
HOURS: 9:00 a.m. –12:00 p.m. | Monday – Friday
Thomas O. Shores South Recreation Center
101 S. Park Drive 440-322-7601
CHAIR EXERCISE
Tuesday: 11:00 – 12:00 p.m. | South Rec Center
Friday: 10:00 – 11:00 a.m. | South Rec Center
CHAIR YOGA
Monday: 10:00 – 11 :00 a. m. | South Rec Center
Wednesday: 10:00 – 11 :00 a.m. | South Rec Center
LINE DANCING
Tuesday 9:30- 10:30 a.m. | South Rec Center
Thursday 9:30-10:30 a.m. | South Rec Center
ADDITIONAL ACTIVITIES
Bus Trips, Craft Time, Speakers
Bring the Family to the Altitude Trampoline Park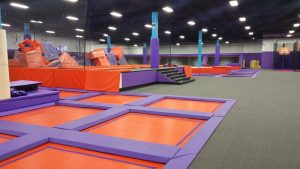 Channel your energy, cut loose with your best flips and tricks, and prepare for the Jump Life!℠ Featuring thousands of square feet of indoor trampolines and other attractions, Altitude Trampoline Park is an exciting destination for families, groups, and individual jumpers to have healthy, athletic fun.
110 Market Dr, Elyria, OH 44035
Visit Bur Oak
With almost half million visitors each year, this is one of the most popular parks in the Lorain County Metro Park system. The most notable feature is the Bridgeway Trail and the Steel Mill Trail.  They total 5.5 miles of paved all-purpose trail that follows the Black River through its meanderings from Elyria to Lorain, spanning four city jurisdictions altogether. The reservation also features three separate picnic areas: High Meadows, Bur Oak and Day's Dam, each contributing its own special character to the variety and natural beauty of this impressive park.
Volunteer at The Salvation Army
It's people just like you who make our programs possible by choosing to give your time. Volunteer opportunities vary depending on where you live, but all of our locations need volunteers throughout the year.
When you join our team of volunteers, you're helping us build communities where lives are changed and hope is found. Volunteers are one of our strongest resources in meeting the needs of a community.
More information: https://easternusa.salvationarmy.org/northeast-ohio/elyria/volunteer/
Catch a Local High School Sporting Event