GET TO KNOW MAYOR FRANK WHITFIELD
Frank D. Whitfield is the first elected African American and independent Mayor of Elyria, Ohio, and passionately pledged to transform Elyria's economy, community, and culture through meaningful collaboration.
Throughout his robust grassroots campaign, Mayor Whitfield elevated the voices and concerns of residents, and works to keep transparency, communication, and accountability are the forefront of his administration. He was elected in a landslide victory on Nov. 5, 2019. 
Mayor Whitfield lives on the central-east side of Elyria, and is an innovative visionary with a passion for serving others.
Before stepping down to run for office, Whitfield served as the youngest President & CEO in the history of the Lorain County Urban League from 2014-2019, where he led team that assisted over 2,000 individuals with employment, over 500 young people become college & career-ready, and cultivated the growth and expansion of over 25 small businesses in Lorain County. During this time, Whitfield also served as President of the Elyria Sunrise Rotary Club, Chair of the Lorain County Children Services Board, and Chair of Mobility and Opportunity for a Vibrant Economy (M.O.V.E) Lorain County. 
Mayor Whitfield's commitment to economy, entrepreneurship, and business is longstanding, and prior to his role with the LCUL, he worked as a Foundation Fellow at the Nord Family Foundation, where he established a leadership program for nonprofit leaders to increase business acumen, program development, and capacity building. He also supported grant making efforts throughout the country. 
Whitfield's journey to success wasn't easy – and his understanding of it taking a village to raise a child, a person, a community up, bled through his commitment to uplift and develop others. 
In his early professional career, Whitfield worked as Digital Technology and Computer Training Instructor at Lorain County Community College where he formalized a plan to increase technological understanding in the Lorain County community. Before, during and after this time, was a servant leader for the Boys and Girls Club, Project Manager for the Family Garden Initiative, Save Our Children, and co-founded Eden Vision, a nonprofit geared towards providing healthy, locally grown produce to clients, businesses, and area organizations.  
Mayor Whitfield often repeats an African proverb that has become the motto for his administration: if you want to go fast, go alone. If you want to go far, go together. This reminder of collaboration, lending a hand, and centering people in your work and life is a guiding principle for Whitfield, whose favorite experiences include: 
Traveling to New Orleans and helping to rebuild after Hurricane Katrina

Meeting people through various keynote speaking events, service projects, trainings, grant making experiences, and advocating on national issues

Teaching seniors how to use and implement emerging technologies and witnessing their skill development

Hanging with the Cleveland Cavaliers behind the scenes of the Championship Parade (in 2016, after the Golden State Warriors blew a 3-1 lead…)

Hosting Dr. Bernice King, the daughter of the late Reverend Dr. Martin Luther King, Jr. in Lorain County to encourage unity and cultural transformation within the region

Traveling to Ireland and Northern Ireland to understand how international communities transform and redevelop their economies and communities

Celebrating the accomplishments of his students from the past 15 years as they graduate high school, college, and start their own families. 
He graduated from Case Western Reserve University's Weatherhead School of Management with his Master of Business Administration (2019), after completing the Weatherhead Executive Coaching Certificate Program (2015). 
Prior to that, he earned his B.A. in Nonprofit Administration and Urban Studies (2012) from Cleveland State University, and his A.A. in Nonprofit Administration from Lorain County Community College (2010). 
Mayor Whitfield is a proud man of God, and dearly loves his beautiful wife Kaleena Whitfield, and their four daughters, Octavia, Sophia, Eliza and Delila. He enjoys poetry, music, sports, and learning.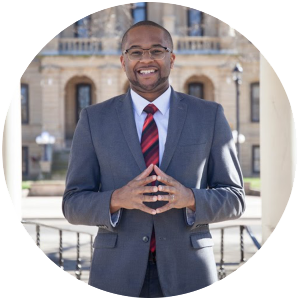 Mayor Frank Whitfield, MBA
131 Court Street, Suite 301
Elyria, Ohio 44035
Phone: 440-326-1402