ARPA and the City of Elyria
Welcome
This space will be utilized to share with Elyria residents how ARPA funds are being invested in our community. We invite you to return to this page regularly as details and plans will be updated here.
An Update from the Mayor's Office
Mayor Whitfield took office in January 2020 on the heels of the City of Elyria losing two of its top five private employers. This left for a very bleak future for the city's fiscal projections. Less than three months later the State of Ohio issued health orders to close schools and prohibit mass gatherings. This forced many businesses to close, which further complicated and put strains on our local economy. Because our municipal services are primarily funded by income tax revenue, our finance director predicted a 20% drop in our income tax revenue.
We immediately started to plan for the short and long term finances of the city of Elyria and how we might continue services.
The CARES act passed in March 2020 with additional stimulus in April 2020. Thankfully, this stimulus provided some breathing room for the city of Elyria.
By the end of 2020 the City of Elyria lost approximately 10% of its income tax revenue. We understood that many businesses were still being held together by the Paycheck Protection Program as well as other temporary stimulus packages. This meant that the City would be in the same boat for 2021 without a new stimulus with local government funding support.
We began writing letters to our congressional representatives requesting support and stood with other cities across Ohio and America requesting additional local government funds.
We were pleased when President Biden signed the American Rescue Plan Act into law in March of 2021. This act would provide $18.6 million in local government funding that would allow us to not only stabilize our government services, but also to support local businesses and nonprofits, and begin to dream about our future.
We issued a survey in May 2021 asking residents for input on how they would like to see us utilize this once-in-a-lifetime opportunity. The vast majority of respondents wanted to see the resources invested in the blighted legacy areas in our city (75%) as well as in our recreational programming for youth, seniors, and families (74%). This was followed by requests to provide aid to small businesses (67%), aid to nonprofits (58%), and to prevent layoffs in our city services (53%). These results were presented to the public and to city council.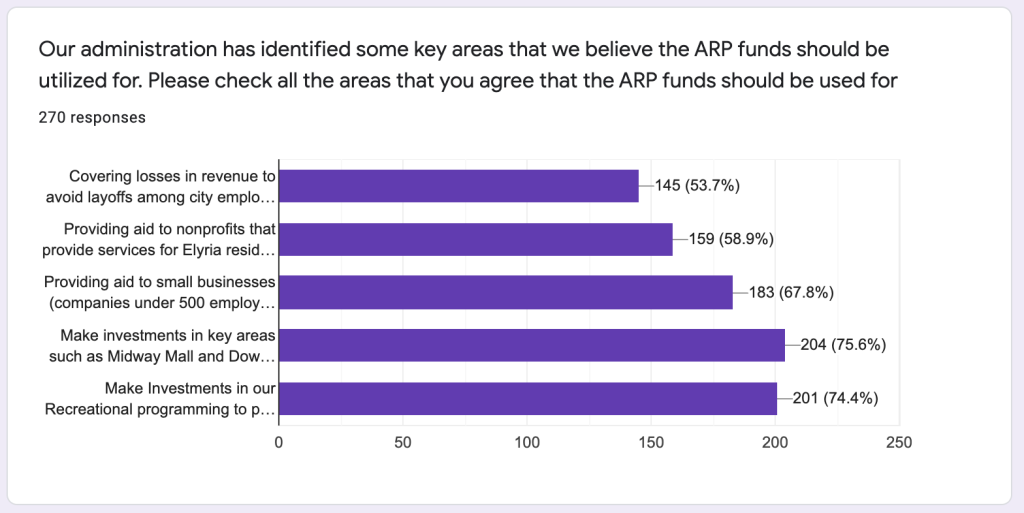 As we awaited the funding to be secured we wanted to foster community engagement, especially in the areas that people said they wanted to see impact. We partnered with Case Western Reserve University and Kinetic by Windstream in October 2021 to host a "Hackathon." This event saw Elyrians working with Case Western Reserve University students and faculty, along with others from around the world, to develop ideas and solutions that would benefit Elyria. The winners of those contests would receive cash prizes and assistance to further develop their ideas. The competition had various areas of focus such as a market for small businesses, a youth development program that incorporated dog training, and a small E-sports lounge where students can study as well as compete in E-sports. All participants were eligible to apply for ARPA funds for their ideas as long as it aligned with the ARPA guidance. Many of have since received funding and launched the execution of their ideas.
More information on the Hackathon can be found here.
Between the fall of 2021 and the winter of 2022, we began our annual budget discussions and presented to City Council how we believed the funds should be allocated. Our Administration's recommendations were as follows:
$6 Million to General Government Services including Police and Fire.
$1.5M to create an intergenerational community center as well as expand other Parks and Recreation programs.
$1M to Sanitation to prevent an increase in sanitary fees for residents and stabilize the budget.
$900K to Capital Expenses.
$1M to support nonprofits providing essential services.
$1M to support small business recovery.
$7M towards community development including home repairs, small business development in qualified census tracts, and other community development initiatives.
Click here to view Mayor Whitfield's Presentation to City Council.